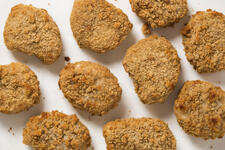 Photo: Getty Images
Perdue Foods has issued a recall for over 68-thousand pounds of gluten free chicken nuggets due to possible wood contamination.
According to the Food and Drug Administration, the problem came to light after the company received complaints from 3 customers about finding wood in the nuggets.
The recalled nuggets have already been shipped across the country.
Note that the recall effects those nuggets with an October 25, 2019 expiration date. and UPC Bar Code of "72745-80656".
The FDA warns the public to throw away these nuggets or return them to the store where they were purchased.