Hamster+Shia LaDork = Careers FLUSHED Down The Crapper
FRI FEB 09, 2018 | | POSTED IN: ANIMALS | SOURCE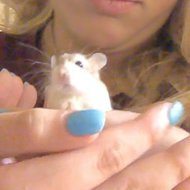 A college student who was assured she could fly home with her emotional support animal, a tiny dwarf hamster, says when she got to the airport she was told otherwise and an airline employee suggested she set it free outside or flush it down the toilet.
Distraught, but with no good options left, Belen Aldecosea, 21, says she had to make the harrowing choice to flush her beloved hamster, Pebbles, down the toilet in an airport bathroom.
"It was horrible," Aldecosea tells PEOPLE. "I sat in a stall for about 15 minutes and just cried and cried."
Pebbles, a hamster breed that's about the size of a Twinkie — no more than four inches long and weighing less than two ounces — was about two months old, says Aldecosea, who got the pet to deal with stress and anxiety and had the hamster certified by a doctor as an emotional support animal.
Spirit Airlines confirms that one of its reservation representatives did mistakenly inform the woman when she called beforehand that her hamster could accompany her on the November flight out of Baltimore-Washington International airport.
The company, however, says it booked Aldecosea on a later flight so she would have time to make accommodations for the rodent and denies her assertion that a Spirit employee advised her on how to get rid of her pet.
"We can say confidently that at no point did any of our agents suggest this guest (or any other for that matter) should flush or otherwise injure an animal," Spirit spokesman Derek Dombrowski tells PEOPLE. "It is incredibly disheartening to hear this guest reportedly decided to end her own pet's life."
Like other airlines, Spirit does allow some emotional support and service animals. However, Spirit excludes rodents, snakes, other reptiles, ferrets, and spiders.
Aldecosea is now considering a lawsuit against the airline.
"We're going to explore all legal avenues," her attorney, Adam Goodman, tells PEOPLE. "This wasn't a dangerous animal. She had to take a very unfortunate action. It's very sad."
Aldecosea believes she made the more humane choice. "It was either I let her out into the street to get squished and bloody before my eyes, or she gets eaten by some animal."
The airline offered her a voucher for round trip to selected locations but she did not accept, she says.
Aldecosea, who has now transferred to Texas State University, recently got another dwarf hamster she named Mia, "but she's not the same."
She wants people who doubt the importance of support animals to understand their necessity.
"I'd rather have an emotional support animal than take pills for stress," she says. "You don't get to tell me what I feel for the animal."

Bromo
Want to know more about Bromo? Get their official bio, social pages & articles on 105-3 The Fox!
Read more